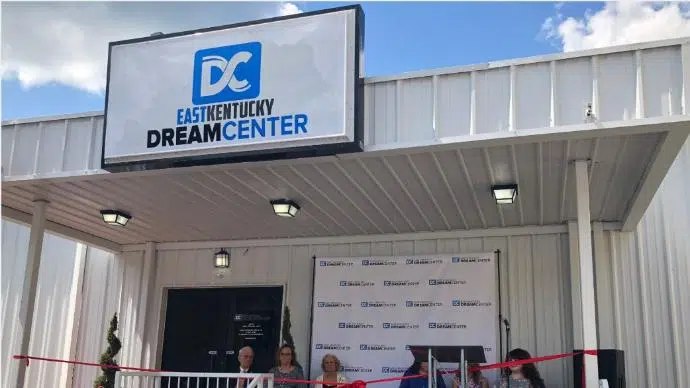 The East Kentucky Dream Center in Pikeville opened its doors Wednesday afternoon.
Officials say they provide free clothes, shoes and hygiene items to around 2,000 homeless people in Eastern Kentucky.
"Nothing better to do with this short span of time we have than to make a difference in the lives of other people," said Richard Holmes.
Holmes is the Pastor of Trinity Baptist Church and a founding member of the East Kentucky Dream Center.
"You make an impact on the lives of individuals by using your talents, using your past experiences," said Pastor Holmes.
Diane Thacker runs one of the services at the Dream Center.
It's called the Clothing Closet.
Thacker told WYMT, her life has come a full circle.
"We had a disagreement in my family and my parents kicked me out," recalled Thacker.
At 17-years-old, Diane Thacker lived a hard life.
"I was homeless. I slept under a bridge," said Thacker.
She even searched through dumpsters for her next meal.
"I mean, it's hard to look back on now but you know," Thacker said.
Now, she's helping those struggling.
"The way we have it set up, it's private," said Thacker. "As sad as it is, with our society today, shame holds heavy on people with low income, or you know, homeless," said Thacker.
Thacker says she can recall feeling extremely low at this point in her life. "When you're homeless, you feel worthless," said Thacker.
She says reflecting on her past is difficult.
"To come from something that I've come from, it's overwhelming, but in a good way," Thacker pointed out.
Being able to use her dark says to make the future brighter is worth it.
Thacker told WYMT, she would have truly appreciated having a Dream Center to come to when things got tough. "I think that would have been a big difference. I wouldn't have gone cold," said Thacker.
Thacker says she hopes to give more than a sweater to those in need.
"Tthe most important thing about the Dream Center, in my eyes, is there's love here," said a tearful Thacker.
Simply because sometimes, people need more than the bare necessities.
"It's just the basic essentials and you add love into it," added Thacker.
"20 years ago I would have never imagined I would be at this point," Thacker said.
Officials with the East Kentucky Dream Center say more than 26,000 people in Johnson, Martin, Floyd, Pike, and Letcher counties are considered food insecure. That means they do not know where their next meal will come from.
Along with the Clothing Closet, the Dream Center also provides hot meals Monday through Saturday from 10 A.M. until 2 P.M.
If you would like to stop by to check out the Clothing Closet, you can call 606-454-3532 to set up an appointment.