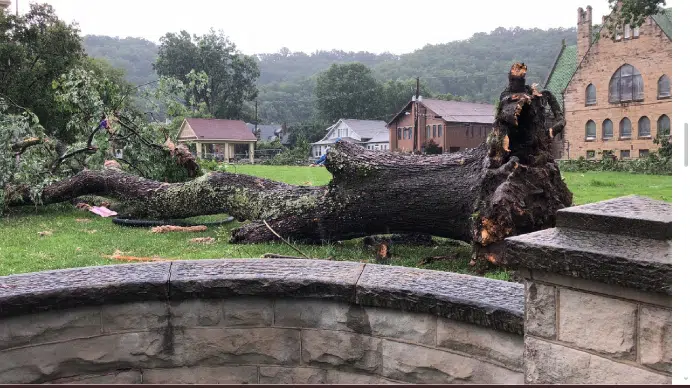 Meteorologists with the National Weather Service say their preliminary investigation shows the damage in Paintsville was caused by a microburst that included straight line winds around 80 mph.
The National Weather Service defines a microburst as a localized column of sinking air, also called a downdraft, within a thunderstorm and is usually less than or equal to 2.5 miles in diameter. Microbursts push winds toward the surface and can cause extensive damage like it did in Johnson County.
Original Story:
Strong storms caused damage in and around Paintsville Wednesday evening.
The Johnson County Emergency Management Director Gary McClure says the storm caused significant downtown damage within the city limits.
"Widespread damage is mainly just here in the city limits. All of the outlying areas of the county doesn't appear to be any major damage at all," said McClure.
We have had numerous reports of roofs off of homes, a business without a roof, a church without a steeple and several trees down.
Seth Carter, the pastor of the First Baptist Church was outside when the storm hit.
"About eight of us were trying to hold those tents down when the storm went through. One of our ladies, who was holding the tent, it actually picked her up off the ground and set her back down. And then five minutes into this burst someone says the steeple is gone," said Carter.
The downpour caused reduce visibility along with damaging winds.
"Oh my goodness, there was so much rain. Just a hard rain. You couldn't see but five feet before you," said Carter.
McClure said ninety percent of the city was without power because of the storm.
"In the 13 years I've been doing this job full time, it's probably the most damage I've seen from a storm that I've had to deal with here in the city," said McClure.
Hundreds were left without power after the storm.